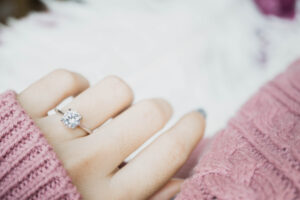 The peak engagement season in the US is from December to February 14th, when several people make their proposals. Some wedding outfit styles become popular and go out of vogue in some seasons. Similarly, engagement rings trends arrive and go away. Royalty and celebrities affect the trends considerably, so several brides prefer more unusual colors and cuts to conventional diamond ring designs.
You And Me Ring
This ring with two gemstones is a celebrity favorite this year. Singer-songwriter Ariana Grande popularized the design last year when she debuted an alternative pearl and oval diamond engagement ring, where the two gems sit close to each other.
The designs with diamonds, pearls and irregular gems set perfectly and imperfectly are likely to become more popular next year. The two-stone ring design has been around for a long time. It became popular when Napoleon proposed marriage to Joséphine with the piece.
The ring traditionally includes two different gems in similar cuts and sizes. Today's jewelers, meanwhile, experiment with contrasts about gemstone cuts, settings, and sizes for a look that is more contemporary.
Personalized Rings
Experts expect matching wedding rings and personalization inspired by singer Britney Spears' recent engagement to dominate the market next year. The singer reignited this trend as Sam Asghari gave her an engagement ring with the word Lioness engraved on it. Since then, more couples have been requesting these kinds of meaningful pieces; experts expect it to be a big trend soon.
Non-Conventional Sapphire Gems
The requirement for alternative sapphire varieties, especially in teal shades, has increased as 2021 comes to a close. Experts expect that it will continue through to 2022 as well. Sunset hues such as orange and pink are becoming popular because of the engagement ring of Princess Eugenie. Another famous royalty ring that may revive the sapphire gemstone trend is associated with Princess Diana.
It will undoubtedly affect sapphire sales, thanks to the new season of Netflix's The Crown, a show about Diana. Customers will look for more unconventional stones to offer a more modern twist to the traditional style.
Geometrical Shapes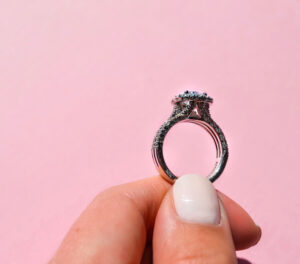 While oval and round stones have dominated the market in 2021, it is likely to change next year. Expect the number of stones with geometric shapes such as kite, triangle and hexagonal shapes to increase. Minimal settings will encompass geometric stones, which is another trend that will continue into next year.
Eternity Bands
Eternity rings are typically set with gemstones and designed to be worn parallelly to wedding bands. That said, there is a trend on more unusual designs sitting separately or leaving a gap. Eternity bands include floating diamond rings and twisted metal bands.