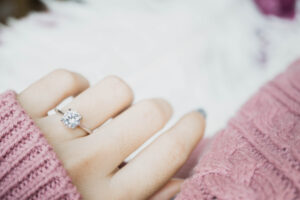 In the realm of jewelry, the diamond rings industry is experiencing a profound transformation. This transformation encompasses not only the aesthetics of these timeless treasures but also their ethical sourcing and the evolving preferences of consumers. In this article, we delve into the exciting changes shaping the world of diamond rings.
Modernizing Traditional Designs
Diamond rings have long been associated with tradition and timeless elegance. However, as the world evolves, so do the design preferences of those seeking to mark life's milestones with these precious gems.
Unique Settings: One notable shift in the industry is the emphasis on unique and personalized settings. Customization is becoming increasingly popular as individuals seek to create rings that reflect their personal stories and unique tastes. This trend is reshaping the traditional solitaire into a canvas for personal expression.
Alternative Gemstones: While diamonds remain the star of the show, alternative gemstones are making their presence felt. Colored gemstones, such as sapphires and emeralds, are being incorporated into designs, adding a vibrant touch to traditional diamond rings.
Vintage Revival: Vintage and antique-inspired designs are enjoying a resurgence in popularity. Rings that evoke the glamour of bygone eras are capturing the hearts of those who appreciate the timeless allure of the past.
Ethical And Sustainable Sourcing
Ethical and sustainable sourcing of diamonds is a significant driving force in the transformation of the industry. Consumers are increasingly concerned about the provenance of their precious stones, and the industry is responding with responsible practices.
Lab-Grown Diamonds: The rise of lab-grown diamonds is a testament to the industry's commitment to ethical sourcing. These diamonds are created in controlled environments, reducing the environmental and ethical concerns associated with traditional diamond mining.
Transparency and Traceability: Jewelers are prioritizing transparency in the sourcing of their diamonds. They are providing consumers with information about the origin and ethical practices involved in bringing each diamond to market. This transparency helps consumers make informed choices.
Shifting Consumer Preferences
As younger generations come of age, their preferences and values are influencing the diamond ring industry in significant ways.
Minimalism and Sustainability: Millennials and Gen Z are often drawn to minimalist and sustainable designs. They are opting for smaller, high-quality diamonds or lab-grown options that align with their values of environmental responsibility.
Online Shopping: The convenience of online shopping has led to a surge in digital engagement with the industry. Consumers are increasingly comfortable buying diamond rings online, aided by advanced imaging technology that allows for a detailed examination of each piece.
Inclusivity: The industry is also becoming more inclusive, catering to a diverse range of tastes and budgets. This inclusivity ensures that there is a diamond ring for everyone, regardless of their preferences or financial capacity.
The transformation of the diamond rings industry is a testament to its adaptability and enduring appeal. From personalized designs and ethical sourcing to shifting consumer preferences, the world of diamond rings continues to evolve while preserving the timeless elegance that has made them a symbol of love and commitment for generations. As the industry embraces innovation and responds to the changing values of consumers, one thing remains constant: the enduring beauty and emotional significance of diamond rings. They continue to be cherished symbols of love, commitment, and the enduring nature of human connection.