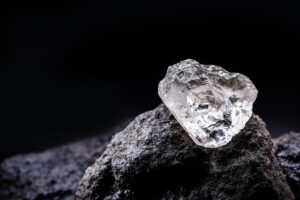 Black diamonds are not for conventional brides. Beautiful engagement rings featuring alluring black diamonds are ideal for those who want to have unique engagement rings that are a far cry from traditional diamond rings. Let us take a look at some of the key factors to keep in mind while choosing a black diamond engagement ring.
Ensuring The Quality Of The Diamond
The first and foremost factor to check for while making a black diamond purchase is its quality and authenticity. This can be easily accomplished by checking the Colored Diamond Report from the prestigious Gemology Institute of America (GIA). The best method to verify the characteristics and quality of large center stones that are above 0.5 carats is to verify their GIA reports. Many naturally mined gray diamonds are treated with high pressure and high temperature to change their color to pitch black. While there is no difference in the quality of these two stones – both being natural diamonds – it is good to know what kind of stone you are purchasing. A GIA report can tell you whether your diamond is naturally black or if it is treated to bring about the black color. The major difference between these two types of stones is in the price which tends to go up with natural inclusions and go down with artificial treatment of stones.
The Average Cost Of A Black Diamond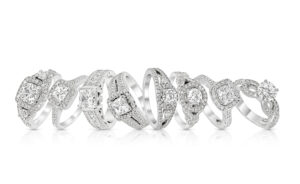 The cost comparison of black diamonds is better done with colorless diamonds with very less inclusions, to get a clear picture of the approximate cost difference between the two. Where a colorless diamond of 1 carat with no inclusions would cost around $10,000, a high-quality black diamond with lots of inclusions will cost somewhere around $5000. Treated black diamonds cost almost half the price of natural black diamonds due to their easy availability. Excellent quality lab grown black diamonds is mostly priced lesser than all the categories mentioned above.  Since none of these black diamond varieties have any comparable differences in appearance and quality, all of them make excellent choices to be used in unique engagement ring designs.
One of the most sought-after diamonds in today's wedding and engagement ring sector, black diamonds offer huge value and a bold look that is incomparable to other diamonds or gemstones. Black diamonds offer plenty of options to experiment with the setting and design, making them an ideal choice for those who want to flaunt their own uniquely designed, signature engagement rings.