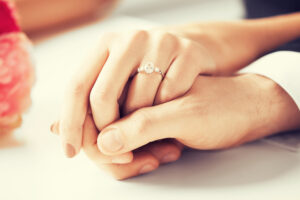 A lot of brides prefer their engagement rings to be shiny and sparkly. If you want your ring to have great brilliance and sparkle, you have to be careful when choosing the diamond shape. Some diamond shapes exhibit great brilliance, whereas, some others are not very brilliant. Therefore, you have to know about different diamond shapes that can create a great sparkle. The following are some of the best options for you to choose if you want shiny diamond rings:
Round-Cut Diamonds
Round-cut diamonds are the favorite of people who love shiny engagement rings. The round cut is the most brilliant diamond cut and no other diamond cut can match the brilliance and sparkle created by it.
Round diamonds are also the traditional choice for engagement rings, and these stones contribute to almost 70% of the whole diamonds sold across the world.
Round diamonds are the first and foremost choice of brides who love shiny engagement rings. But this diamond shape is extremely costly than other shapes. But you can make your round diamond engagement rings more affordable by choosing lab grown diamonds. These synthetic diamonds are available for cheaper rates when compared to natural round brilliant diamonds.
Princess-Cut Diamonds
The princess cut is one of the popular options among millennial brides, as it can offer a contemporary look to their ring without compromising on the sparkle. The princess cut is known for its square shape and pointed corners. It also creates an exceptional sparkle along with offering a distinct and modern look to your ring.
Princess-cut diamonds are also much more affordable than round diamonds. Therefore, you can get a shiny and sparkly ring by choosing this diamond shape for your engagement ring.
Oval-Cut Diamonds
Being the elongated version of round brilliant diamonds, oval diamonds can also showcase a good sparkle. They can be suitable for you if you want an elongated diamond shape with great brilliance.
Oval diamonds are also cheaper than round diamonds. Hence, they can be suitable for you if you want a sparkly diamond for more affordable rates.
Cushion-Cut Diamonds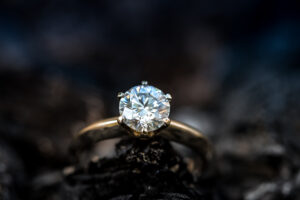 Even though these stones are not as sparkly as round diamonds and some other diamond cuts, cushion-cut diamonds still exhibit a good sparkle. Additionally, cushion-cut diamonds create a good fire that can add to their beauty.
If you are looking for shiny diamond shapes, make sure to get stones that come with brilliant cuts like round and princess. Step-cut diamonds like Asscher and emerald usually have a lower sparkle when compared to brilliant-cut diamonds, but they are stunning and unique in their own way.