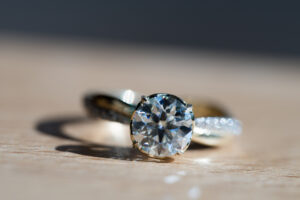 When you go to buy an engagement ring, several ring setting options will be available for you. Every ring setting has its own merits and demerits. So you have to choose one after understanding the taste of your life partner. Eternity ring setting and infinity ring setting are two among the large list of ring settings you can choose from.
Both these rings can be symbols of commitment and devoted love. In this article, we are comparing the features of eternity rings and infinity rings. Read below to find more about both these rings.
Eternity Ring
In an eternity ring, several small diamonds with brilliant sparkle run all around the metal ring. It magnificently represents the eternal love between you and your partner and can be a perfect choice for your engagement ring.
The modern eternity ring design is inspired from the ancient Egyptians. In their culture, they gifted eternity rings as the symbol of lifelong devotion. These rings also represent the 4000-year-old illustration of a snake biting its own tail. 'Never ending' is the meaning of all these symbols and ultimately eternity rings represent everlasting love and devotion.
Types Of Eternity Rings
Full Eternity Rings
When the stones (diamonds or other gemstones) run all around the circumference of the ring band, it is called a full eternity ring. The number of stones in this setting is comparatively high and this can increase the cost.
Half Eternity Rings
The diamonds only run up to half the circumference of the ring in a half eternity ring. These rings don't have gems on the lower half, making them comfortable to wear. If there are diamonds in the lower half, you may feel uncomfortable while closing your fingers.
Infinity Rings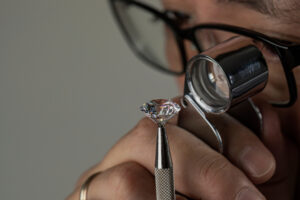 You may be familiar with the infinity symbol, if not it looks like an eight rotated 90 degrees. The symbol of infinity can be seen in this ring, and it represents unending love. Diamonds or other gemstones are placed on this infinity symbol and the overall appearance of the ring is just marvelous.
When both eternity and infinity rings are compared, eternity rings seem to be expensive due to the greater number of diamonds. If you are worried about the cost, you can use lab-grown diamonds to reduce the cost without compromising quality. Both these rings are absolutely splendid and can be used as engagement rings or your anniversary gift.