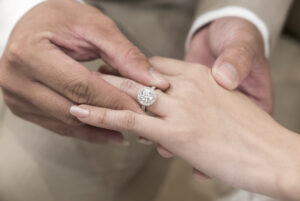 If you are someone who looks for a truly unique ring design that intrigues people, then look no further than a tension-set ring. These rings have been the favorite of brides who are looking for distinct and stunning engagement rings. If you are planning to get a tension-set ring for your engagement, then we address some of the important things you have to know about this particular setting.
What Is A Tension Setting?
In most ring settings, the diamonds will be held in place using prongs, channels, or metal bands. Some other settings come with stones that are set flush against the metal. But the tension setting is so unique, as there are no visible prongs or other arrangements to hold the stone.
In the tension setting, the diamond might look like it is being held in place by the tension between the two ends of the band. But in reality, in addition to the tension between the bands, there can be small grooves on the band that are responsible for holding the stones in place. These grooves can add enhanced protection to your precious stones, but they won't be visible. Hence, this ring can create the illusion that the stone is suspended between the metal bands.
The tension setting was developed almost 50 years ago, and since then, a lot of changes have happened to this design that made it sleek and modern.
Why Buy A Tension-Set Ring?
A tension-set ring can be a sleek, modern, and unique design when compared to other common ring settings. The polished and modernistic look of this design can make your tension-set ring an attention-grabber. So if you are looking for one of a kind design for your engagement ring, then tension setting can be a perfect choice.
Additionally, this setting can enhance the visibility of your natural or lab grown diamonds, as the metal interrupting their visibility is minimal. Hence, it can also be suitable for people who prefer their rings to be shiny.
Pros Of Tension Setting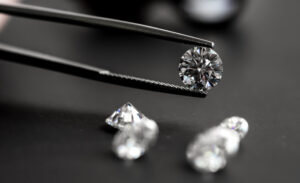 There are some impressive advantages associated with this particular ring setting:
An intriguing design with a modern appeal
Highly durable and very secure setting
Easy to clean and maintain
Enhanced brilliance and sparkle for your diamonds
Cons Of Tension Setting
Can be more costly
Difficult to resize
Extreme force can cause the stones to dislodge
If you prefer a tension setting for your engagement ring, then there can be a wide variety of options available for you, as this setting can suit any diamond shape.