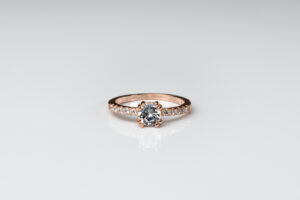 Engagement rings are one of the precious and most valuable pieces of jewelry you will ever wear. Hence, a lot of people prefer to keep their engagement rings as such, however, many others choose to bring various modifications to their rings over years. If you got bored of your old engagement ring and want to give it a new look, it's perfectly normal, as a lot of people want to do the same.
There are different options available when it comes to modifying an engagement ring. From changing the center stone to alternating the setting, your options are endless. The following are some of the best possibilities you can get when modifying your engagement ring:
Upgrade The Middle Stone
One of the easiest and commonly used ways to modify an engagement ring is changing the center stone. If you have a small center stone, then you can replace it with a bigger one. Also, if your ring has a traditional round diamond, but you want to go with something more unconventional, then go for other diamond shapes like princess, oval, or cushion-cut diamonds.
Changing the size and shape of your center stone might involve changing the setting of the ring too. For example, if your ring originally had a small center diamond but you are planning to replace it with a bigger one, then the prongs will have to be changed to accommodate the bigger stone. Additionally, a bigger center diamond can be significantly costly than a smaller one. Therefore, you have to consider the expenses associated with changing the center diamond before modifying the ring.
If you prefer to replace your center diamond with a bigger one but do not want to step over your budget, then it is better to go for artificial diamonds that come with all the features of natural diamonds. Artificial diamonds tend to be 40% less costly than natural diamonds. So you can get a bigger diamond for more affordable rates by choosing them.
Change The Metal
Precious metals including gold and platinum are often used for engagement rings. If your ring has a white metal like platinum or white gold, then you can give it a new look by changing to yellow or rose gold, or vice versa.
Modify The Setting
You can entirely change the appearance of the ring by modifying some simple design elements. For instance, adding a halo to your solitaire ring can be a stunning way to give it a fresh look. You can also add stones to your band for creating a luxurious look.
Take your ring to a jeweler to find out which is the best option for you. Also, make sure that your ring won't be damaged when modifying it.