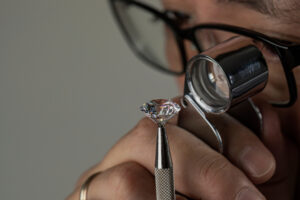 Choosing the right engagement ring can enhance the appeal of your fingers. There can be a huge variety of options when it comes to engagement rings, but not all designs suit everyone. Therefore, it is necessary for you to find a ring that can flatter your fingers. You should consider several factors when choosing an engagement ring including the length and width of your fingers, the shape and size of the stone, ring design and settings, etc. to ensure that the ring you choose can fit your fingers perfectly.
The following guide can be beneficial for you to select a ring that can be a perfect match for your hand:
Rings For Long Fingers
If you have long fingers, then you are lucky, as most ring styles work well with this type of fingers. But there are certain stones and designs that can flatter your fingers in an excellent way.
Princess-cut and round diamonds can look stunning on long fingers. By choosing wider bands, it will be possible to complement the longer look of your fingers in a brilliant way.
Rings For Slender Fingers
When choosing an engagement ring for slender fingers, you should choose a design that does not overpower them. Smaller stones can be a great option for you to give a wider appeal to your fingers. Additionally, choosing thicker bands can also make your fingers look wider.
Rings For Short Fingers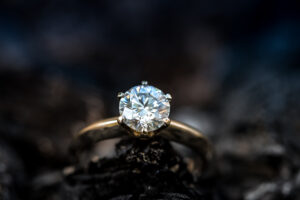 If you have short fingers, then it is better to choose an engagement ring that can offer an elongated look for your fingers. Elongated diamond shapes like oval, marquise, and pear can be a great option for such people.
Emerald-cut stones with a rectangular shape can also lengthen short fingers, but make sure that they won't be overwhelming. When choosing the band of your engagement ring, it is better to go for slender bands, as they can give an illusion of length.
Rings For Wider Fingers
People with wider fingers should aim to avoid showing too much skin on both sides of the ring. This can make your finger even wider. Choosing bigger stones can be helpful to cover your wider fingers. However, getting stones with a higher carat size can be expensive. But you can try lab grown diamonds or other gemstones to save a significant amount on your engagement ring if you are planning to get bigger stones.
When getting an engagement ring, make sure to consider the size and shape of your hand to select the best option that can flatter your fingers.